This chicken Shawarma recipe from the Middle East makes an excellent meal you'll want to make again and again.
I made pasta noodles from scratch using the leftover chicken. I repeated the spices I used on the chicken to flavour my sauce. I added turmeric, cumin, and coriander to the sauce I developed. The flavours are rich and spicy.
For the last step, I added the vegetables from my refrigerator. I added spinach because I love adding spinach to my pasta dishes. Also, I added yellow tomatoes because of the colour contrast it would create. I thought that this recipe had very unique.
Let's make a chicken shawarma pasta recipe.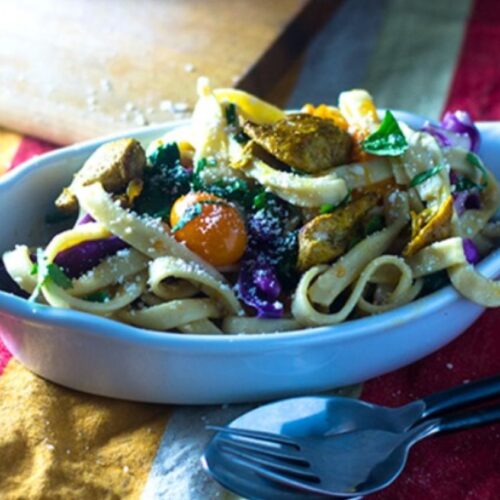 Chicken Shawarma Pasta Recipe
The remains of your roast chicken can be used to make a fantastic pasta dish with Middle Eastern flavors.
Ingredients  
Pasta
21/2

Cups

semolina

3

piece

eggs

6

tbsp

water
Dish
1

As much

chicken as you have left over.

1

tbsp

turmeric

1

tbsp

cumin

1

tbsp

coriander

3

cup

coconut milk

1

bunch

spinach

12

yellow

tomatoes

1

tbsp

olive oil

1

Cojita cheese

for garnish
Instructions 
Place the flour, oil and eggs in the stand mixer.

Add the water a teaspoon at a time until the dough comes together mostly.

Pour on to a flour surface and start kneading the dough until the dough is formed.

Wrap in plastic wrap and place in the fridge for 30 minutes.

Remove the pasta from the fridge and cut into 4 or 5 equal pieces.

Using your Kitchen Aid pasta attachment, begin by stretching the pasta.

After stretching the dough, it is ready to be cut using the fettuccine attachment.

Boil water in a double boiler. Drop in the pasta and cook for 2 – 3 minutes until al dente.

In a skillet, heat the oil and add the spinach and tomatoes.

Cook until the spinach is wilted and the tomatoes split open. Remove from pan and set aside.

Heat the coconut milk in the same skillet. Add the spices and cook until the sauce reduces a little

Add back in the vegetables, the chicken and continue cooking.

Add the cooked pasta and simmer for 2 minutes.

Plate and top with the cojita cheese.
We are sorry that this post was not useful for you!
Let us improve this post!
Tell us how we can improve this post?