I love eating fried crab legs. I'm always happy and satiated after eating it. Nothing tops the satisfaction of making restaurant-quality fried crab legs recipe at home.
When I first made fried crab legs at home, I was scared. How do you recreate that ideally crispy, golden brown coating at your favorite seafood restaurant?
But after a few tries, I realized that making fried crab legs is actually quite easy, and with a few tips and tricks, you too can create a delicious and impressive seafood dish that will have your guests begging for seconds.
Last summer, I invited friends for an outdoor barbecue and made fried crab legs as an appetizer. Some of my pals thought it might be too hard to make at home.
The crispy, meaty crab legs hooked them. They couldn't believe that I had made them myself, and it was a hit of the party.
How To Make Fried Crab Legs
One of my favorite seafood meals is fried crab legs, and I can't wait to share my recipe with you. My dinner guests always beg for seconds of this dish.
In this article, I'll show you how to fry crab legs in the comfort of your own house. We'll also answer some of the most common inquiries about this meal. Let's dive in right now!
Ingredients Of Fried Crab Legs Recipe
1 cup of all-purpose flour
Crab Legs
1 tablespoon of paprika
1 tablespoon of garlic powder
1 tablespoon of onion powder
1 tablespoon of salt
1 tablespoon of black pepper.
Step by Step Instructions To Make Fried Crab Legs
Step 1: Choosing the Right Crab Legs
The first step in making fried crab legs is to choose the right crab legs. You can use any type of crab legs you prefer, such as king crab, snow crab, or Dungeness crab.
When selecting crab legs, you should look for legs that are meaty and fresh. If possible, choose legs that are already cooked, as this will make the preparation process quicker and easier.
Step 2: Preparing the Crab Legs
Once you have your crab legs, the next step is to prepare them for frying. If your crab legs are uncooked, you will need to steam them first.
To do this, place the legs in a steamer basket and steam them for 5-7 minutes until they are fully cooked. Once the legs are cooked, remove them from the steamer and let them cool.
If your crab legs are already cooked, you can skip the steaming step and move straight to the breading process.
Step 3: Breading the Crab Legs
To bread the crab legs, Mix the ingredients until they are well combined.
Next, take one crab leg at a time and dip it into the flour mixture, making sure to coat it evenly on all sides. Shake off any excess flour and set the breaded crab leg aside on a plate. Repeat this process with the remaining crab legs.
Step 4: Frying the Crab Legs
Now that your crab legs are breaded, it's time to fry them. In a deep fryer or large pot, heat 2-3 inches of oil to 375°F. Carefully place the crab legs into the hot oil, one at a time, and fry them for 2-3 minutes or until they are golden brown and crispy.
Remove the fried crab legs from the oil and place them on a wire rack or paper towels to drain off any excess oil.
Step 5: Serving the Fried Crab Legs
Once your crab legs are fried and drained, it's time to serve them. You can serve them as an appetizer or as a main course. I like to serve them with a side of garlic butter sauce for dipping.
To make the garlic butter sauce, melt 1 stick of butter in a small saucepan over low heat. Add 2-3 cloves of minced garlic and cook for 1-2 minutes until the garlic is fragrant. Remove the pan from the heat and stir in 1 tablespoon of lemon juice and a pinch of salt.
Pour the garlic butter sauce into a dipping bowl and serve alongside the fried crab legs.
Fried Crab Legs Faq's
Can I bake the crab legs instead of frying them?
Yes, you can bake the crab legs if you prefer a healthier option. To do so, preheat your oven to 375°F and place the breaded crab legs on a baking sheet. Bake for 15-20 minutes until they are golden brown and crispy.
Can I use a different dipping sauce?
Absolutely! You can use any dipping sauce you prefer. Some other popular options include cocktail sauce, tartar sauce, or a spicy aioli.
Can I make this dish ahead of time?
Fried crab legs are best served hot, but you can make them early and reheat them in the oven. Put the fried crab legs on a baking tray and bake at 350°F for 10-15 minutes until heated through.
Fried Crab Legs Variations
Cajun style – For a spicy kick, mix some cajun seasoning into your breading mixture before coating the crab legs. Serve with a side of hot sauce for dipping.
Lemon garlic – Add some minced garlic and fresh lemon juice to your melted butter mixture for a zesty flavor.
Coconut fried – Swap out the breadcrumbs for shredded coconut for a tropical twist on this classic dish. Serve with a sweet chili dipping sauce for a perfect balance of sweet and spicy.
Panko crusted – For an extra crispy coating, use panko breadcrumbs instead of regular breadcrumbs. You can also mix in some grated parmesan cheese for an added layer of flavor.
Old bay seasoning – A classic seafood seasoning, old bay adds a savory and slightly spicy flavor to your crab legs. Mix it in with your breading mixture or sprinkle it on top of the finished product.
How To Serve Homemade Fried Crab Legs
As an appetizer – Serve fried crab legs with a dipping sauce of your choice, such as garlic butter, cocktail sauce, or tartar sauce. You can also add some lemon wedges and fresh herbs for added flavor and presentation.
As a main course – For a more substantial meal, serve fried crab legs with a side of fries or coleslaw. You can also add some steamed veggies or a salad for a complete and balanced meal.
Family style – Arrange a platter of fried crab legs in the center of the table for everyone to share. This is a great option for a casual dinner party or gathering with friends.
What Sauce Goes Best With Fried Crab Legs
Garlic butter is famous for fried crab legs. Melt butter and add garlic and lemon juice. Parsley and onions add flavor.
The cocktail sauce gives fried crab legs a tangy, spicy bite with ketchup, horseradish, Worcestershire sauce, and lemon juice.
Tartar sauce made with mayonnaise, pickles, onions, and capers—complements crab legs' richness.
Dip your fried crab legs in hot sauce if you like fire. Hot sauces range from mild to spicy, based on your taste.
Sweet chili sauce – Fried crab legs taste great with this Thai-inspired sweet and fiery sauce.
How To Store & Reheat
Let them cool before keeping them. This prevents wetness from making the breading soggy.
Store fried crab legs in a Tupperware or plastic bag. Make sure the jar is airtight.
Refrigerate the fried crab legs within two hours of heating. Cold temperatures slow germ growth and keep crab legs fresh for three days.
Reheat before serving: Place the fried crab legs on a baking tray and bake at 350°F for 10-15 minutes to reheat and crisp them up.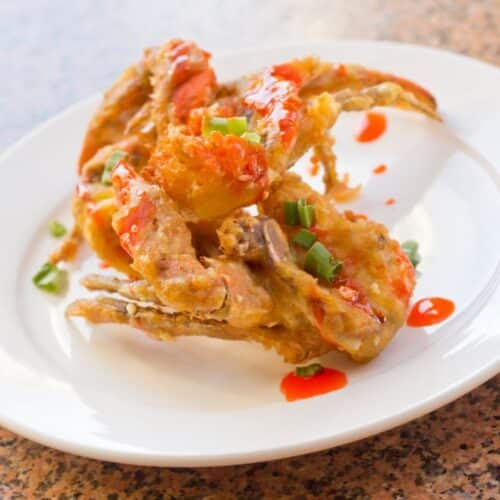 Fried Crab Legs Recipe (Easy To Make)
Making Fried Crab Legs is a simple and quick process that will leave you with delicious, Fried Crab Legs recipe that are perfect for your next meal.
Ingredients  
1

pound

of fresh crab legs

1/2

teaspoon

of salt

1

tablespoon

of oil

1

chopped

onion

1/4

cup

of white vinegar

1

teaspoon

of sugar

1

tablespoon

of soy sauce

1

teaspoon

of sesame oil
Instructions 
Preheat the oil in a large skillet over medium heat.

Add the chopped onion and cook until softened, about 5 minutes.

Add the crab legs and salt to taste. Cook for 3 minutes per side or until golden brown.

Remove from heat and let cool slightly.

Serve with the onion mixture, white vinegar, sugar, soy sauce, and sesame oil on the side.
We are sorry that this post was not useful for you!
Let us improve this post!
Tell us how we can improve this post?