My mom always made a really great chicken ragu with polenta. I remember my mouth watering when I tasted her version as a kid. So, I've adapted it a bit, with the addition of polenta for a heartier dish.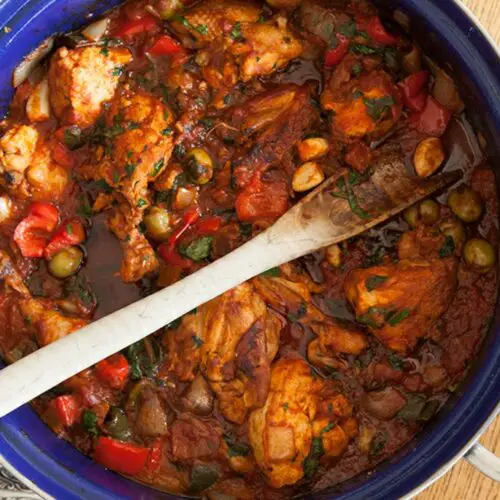 Best Chicken Ragu Recipe with Polenta
Ragu with polenta is a great classic, perhaps even the best, Italian-inspired ragu recipe. It's so easy to make, and is delicious poured over pasta. It's also a great make-ahead dish that you can reheat easily at the beginning of the week. at home.
Ingredients  
1

piece

whole heritage chicken (about 1.8kg/4lb)

1

head

of garlic, skins removed

2

piece

red bell peppers, chopped

1

piece

poblano pepper, chopped

1

piece

medium onion, chopped

1

glass

of white wine

2

cups

passata

1

big

handful of green olives

2

cups

polenta

1

quart

stock

2

cups

parmesan

1

cup

butter
Instructions 
Ask your butcher to cut the chicken into 8 pieces, lifting the breast from the bone. If you're making your own stock, hold on to the carcass (and the neck, wing tips and feet if you can get them).

To make stock, place the chicken bones and bits in a large pot with the peppercorns and any aging vegetables found in the fridge and cover generously with water. Bring to the boil and simmer for a couple of hours, then strain.

Meanwhile, preheat the oven to 150C/300F. Place an ovenproof pan or baking tray on the hob, heat the oil, then add the chicken portions and fry till lightly coloured. Add the garlic and peppers, then the onions, and let them soften. Deglaze the pot with white wine, then add the passata and finally the olives. Roast in the oven for about 50 minutes.

Bring 950ml (1 quart) stock to the boil. Sprinkle in the polenta and simmer gently for 5-10 minutes, keeping it on the move with a wooden spoon. Stir in the parmesan and butter and season with salt and pepper.
We are sorry that this post was not useful for you!
Let us improve this post!
Tell us how we can improve this post?